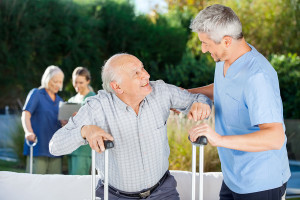 Being a caregiver to an older adult or anyone who has a major disability can be a rewarding career or a stepping stone to a career in nursing, medicine, social work or even teaching.
Our diversified staff at Eldercare Services has both male and female caregivers from all ages and cultures. The staff bring such a rich tradition of respect and care to our clients and are dedicated to the outcome of high quality lives for those who are very old or ill, to those that just need a little support to stay independent.
Some of our caregivers have come from the corporate world and wanted to do something that touched lives. They sought out training and then a team to work with that would support them and continue to provide training that furthered their education in the field of "care".
We take great pleasure to mentor our care staff team on to careers in nursing, medicine, social work and other related careers.  Recently, one of our caregivers went on to become a licensed clinical social worker. Another, went to medical school to become a physician after spending his last two summers during college as a caregiver to one of our more medically challenged clients – he really wanted to make a difference in the lives of the very old. A third caregiver, who had a bachelor's degree, furthered her education to become a Master's level nurse who specializes in dementia and hospice because of her experience with Eldercare.
Caregiving is a field where you receive as much as you give. Making the life of someone just a little better with a simple smile or a back rub.  The human heart and tender touch can mean more than anything else to someone at the end of their life or someone struggling to recover from a medical condition.
Caregiving can be a career that fits into your current lifestyle – a few hours a week or a full-time position.   The hours can also fit around school schedules and the schedules of those who have school age children.
If you have heart and want a rewarding career that is not without challenges – give caregiving a try.